Our Christmas baskets, original Sicilian specialty boxes to give and treat yourself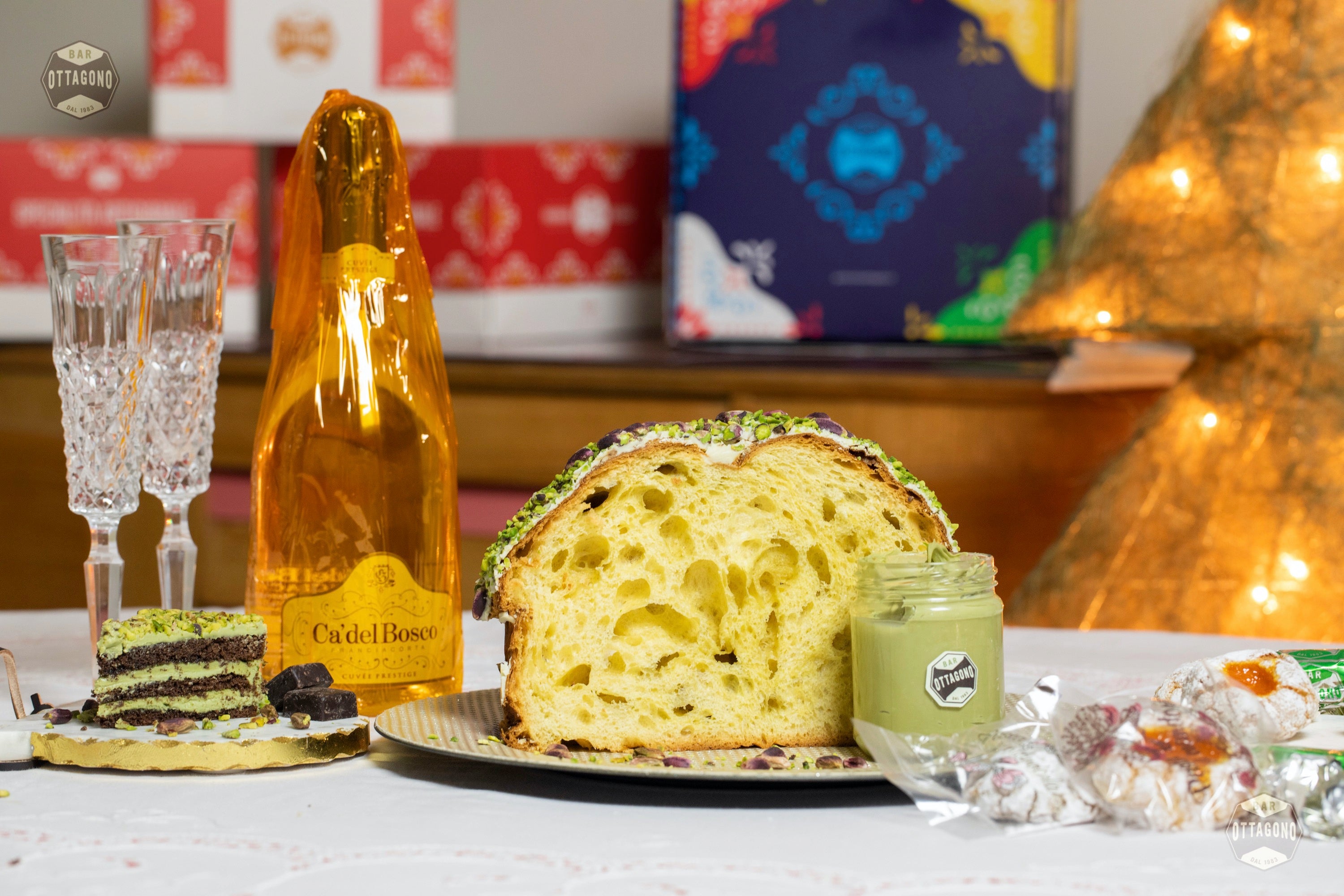 The our Christmas baskets , original boxes of Sicilian specialties to give and treat yourself 
Our pastry shop is full of surprising desserts at any time of the year, but Christmas deserves an extra dose of sweetness: specialties to be enjoyed alone or shared with our sweetheart, relatives and friends, as long as they are exquisitely Sicilian. 
If you are already thinking aboutwhat to give to amaze duringChristmas holidays we have an idea for you: le ourChristmas baskets ,precious boxes to customize with Made in leavened products and sweet and savory delicaciesSicily. Well48 different combinations that allow to satisfy the most varied tastes, ready to be picked up in pastry shops or fromship to all over the world. 
The king of Christmas sweets, the Panettone! You can choose between: 
Panettone with Sicilian Pistachio from900g with 200g jar of cremino spreadable pistachio 

Panettone with Green Pistachio of Bronte DOP from900g with 200g jar of cremino spreadable pistachio 

Classic panettone with orange peel and raisins from900g 
Panettone with Modica PGI Chocolate Nuggets from900g 
Prosecco DOCG Bottega da0.75cl 

Ca 'of the Bosco - CuvéePrestige -Franciacorta V.euve 0.75cl 

Clicquot - Champagne Brut "Cuvée Saint-Pétersbourg" from0.75cl 
Federico II Millesimato Brut Cantine Milazzoda 0.75cl 
If you want to make your box really special, there are manyideasthat can enrich it: 
A) Chocolate of Modica IGP (100g) + Evo Oil IGP Sicily (0.5l) + Illy coffee beans (250g) + Pistachio sauce for pasta (180g); 

B) Almond Paste (500g) + "Pistanut"the long-life pistachio cake (1300g); 
Everything listed in option A and option B to make a great impression! 
L'
elegant blue box
, inspired by the old
Sicilian trunks
, makes our Christmas baskets the
perfect gift
, suitable for all needs: for friends and family with a sweet tooth, for colleagues and customers who are passionate about good food, for those who love the flavors of the island and for those who, even far from their land, want to feel at home, amidst scents and tastings that bring them back to the places of their hearts.e.
 If you love surprises, don't miss the new onesMystery Box:special baskets made by us - with a surprise content, in fact - for a gift with an effect WOW ! Within oursexclusive gift box with decorations inspired by the ancient Sicilian trunks you will surely find: 

A 900g artisan Panettone with centerpiece box; 

A 75cl bottle of Prosecco DOCG, 
Other surprises including almond paste, Modica IGP chocolate, IGP Evo oil 
Sicilian, Illy coffee beans, pasta sauces, Illy Art Collection cups and many more. 
 
Remember thatthere Shipping in Italy and the gift box I'm alwaysincluded in the price. For international shipments you can find out the rates after entering the delivery address.

We recommend that you order as soon as possible and write the desired delivery date in the notes.For further customizations, we are always at your disposal in chat or by email! 
---