OUR CANNOLI KITS:A CONCENTRATE OF SICILIAN SWEETNESS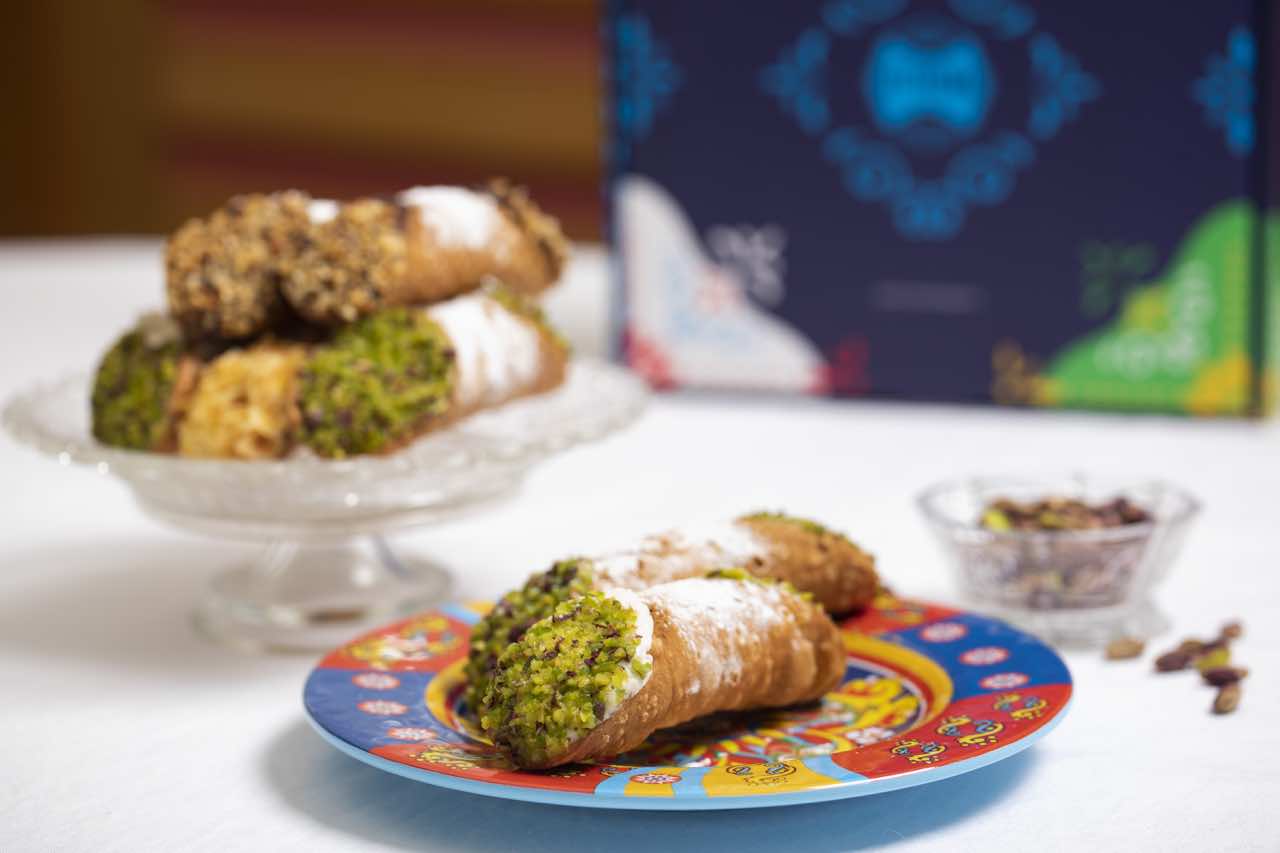 Cannoli are par excellence one of the typical sweets ofour pastry tradition; the crunchy fried wafer with golden hues is folded and takes a tubular shape to accommodate a velvety cream of genuine Sicilian sheep ricotta, fine Bronte pistachio, pure chocolate with an intense and full-bodied flavor, soft and delicate custard made as the tradition - that of Pasticceria Ottagono - commands.
Here the excellences of the Sicilian territory come together to give life toperfect kit - a pack of delicious Sicilian cannoli - the dessert is the ideal gift idea for the sweet tooth and lovers of island specialties. A box filled with delicacies that is shipped by refrigerated courier to keep the fragrance of the cream intact.

Inside you will find everything you need forcompose 12 cannoli comfortably at home, in a practical and fast way: The crunchy skins, a sealed bucket with 1 kg of the filling of your choice, the toppings (pistachio, icing sugar, etc.) and the pastry bag. All packaged ad hoc in an elegant gift box, always included in the order.

To enjoy this intoxicating taste experience you will need to keep in mind just a few small tips:

The duration of the filling is approximately 30 days from the moment the kit is shipped (if properly stored in the freezer)

The ideal recommended storage temperature is -18C 

After you have defrosted the filling, you can use it no later than 4 days

The recommended drinking temperature is + 4CC

How cannoli are prepared?
As previously mentioned, the kit comesshipped throughout Italy by courier refrigerated at -18C. Only the filling should be kept in the fridge or freezer, the skins and toppings can be kept at room temperature. When you want to prepare the cannoli you will have to defrost the filling by keeping it for about 10 hours in the fridge (not in the freezer) or a couple of hours at room temperature. 

Choose the combination that best suits your tastes

Our cannoli kits are available in three different formats:

- 12 cannoli of 15 cm already crunchy + preparation kit
-18 cannoli of 15 cm already crunchy + preparation kit
-24 cannoli of 15 cm already crunchy + preparation kit

If you don't like sacrifices and want to try more than one taste among those we offer, we give you the possibility to choosethe "mixed flavors" option, specifying in the cart notes the flavors you would like to receive in multiples of 6.
What are you waiting for? Immediately fill up with Made in Sicily sweetness with our cannoli kits and make friends, relatives and colleagues happy..
---